What Were You Wearing?
Clothing collection October 22 – 25 
"What Were You Wearing?" will be an installation of stories and clothing worn by sexual assault survivors at the time of their assault. This exhibition asks us to understand that it is never about the clothing, and the act of shedding those clothes is never enough to bring peace or comfort to victims. Aggies are invited to participate by providing clothing or a description of what they were wearing at the time of their assault.
Drop-off Location is the Reynolds Gallery (2nd Floor of the Memorial Student Center), please Sign Up Online to let us know you are coming.
Select a drop off day and then arrive anytime within the hours listed for that day.
If none of the days/times work for you, email Mary Compton mcompton@tamu.edu to schedule a different time.
If you no longer have, or do not wish to provide, your own clothing items, you can still participate by sharing your story and a description of the clothing you were wearing.
Your donation can be completely anonymous.
Your clothing will be included in the What Were You Wearing? exhibit on display in the Reynolds Gallery between November 6 – December 20, 2019.
Your clothing items will be returned to you after the exhibition ends. You can collect them as early as January 20, 2020.
This is a Title IX exempt event:  any student who submits clothing or shares their story may do so without having to file a report with the university
You can complete the Clothing Submission form in advance and bring it with you. Copies will also be available at the drop-off location.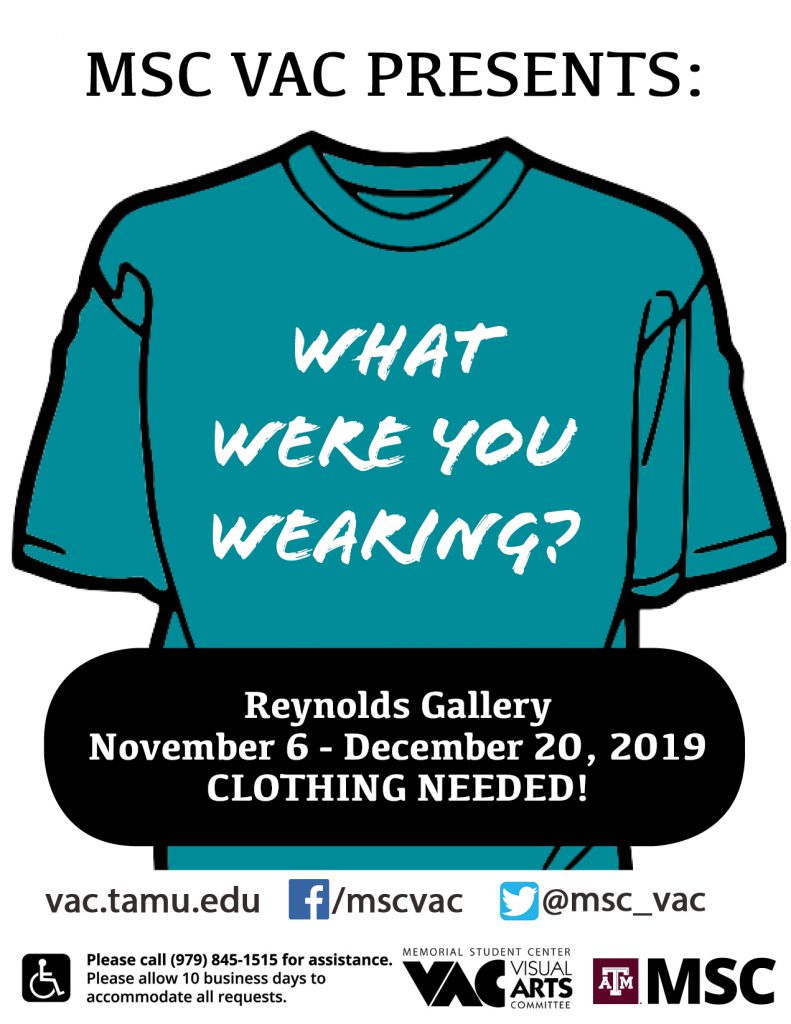 For resources available to yourself, fellow students, or friends in the community visit: