About ArtFest
ArtFest is the annual student art competition and exhibition sponsored by the Memorial Student Center's Visual Arts Committee. Student submissions are displayed in the James R. Reynolds Student Art Gallery for the duration of the exhibit. The top three winners of ArtFest will receive a cash prize. Click on the How to Submit button for 2022 details!
ArtFest 2022 will be on display March 2 – April 16, 2022.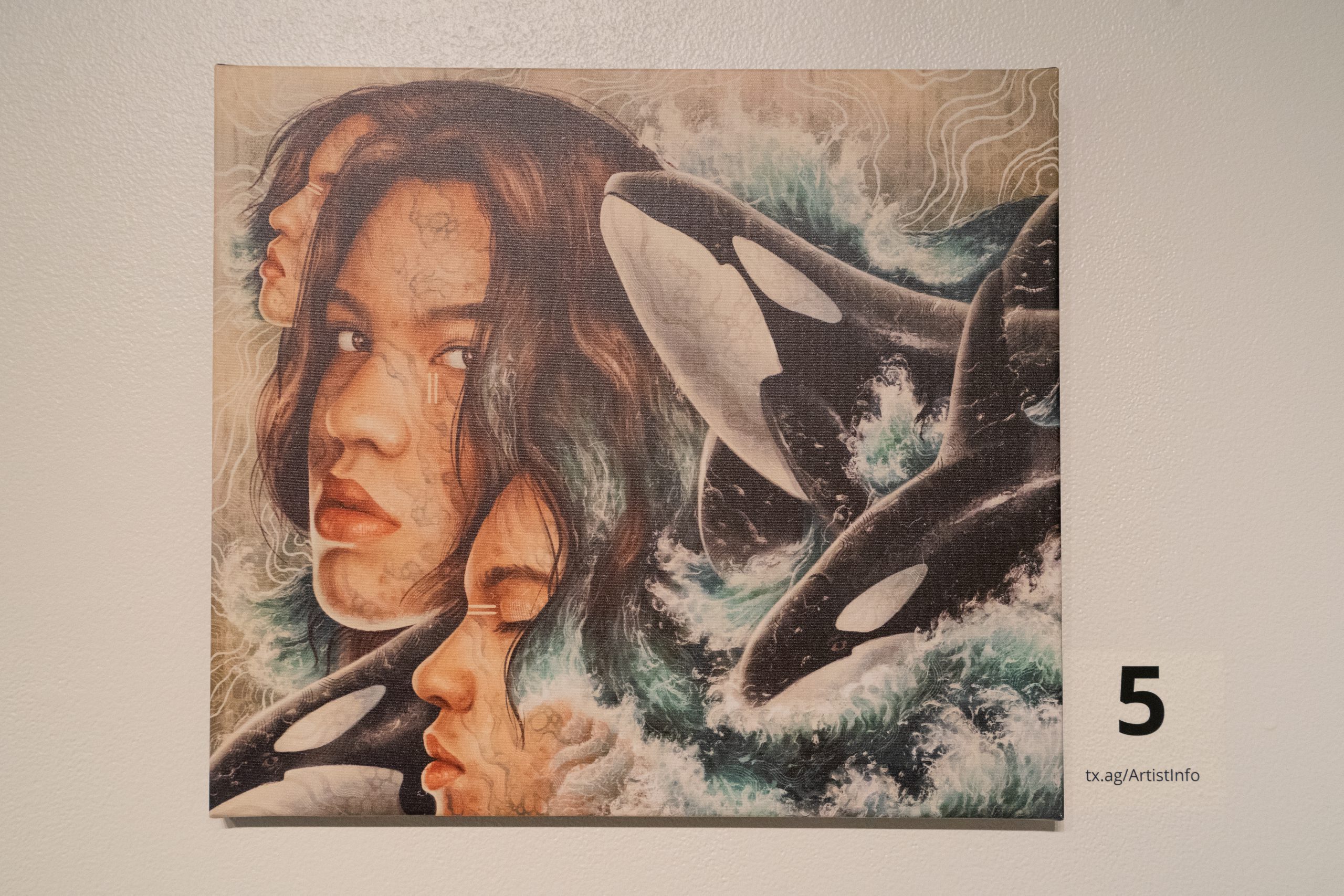 Crystal Scott (First Place Overall)
Freshman Mechanical Engineering Major, from Spring, TX
Washed Over
Digital painting
This self portrait illustrates an attempt to repress overwhelming emotions and keep composure. When faced with feelings of self doubt, stress, or hopelessness that attack us like beasts and threated to engulf us, we unfortunately often turn away from possible sources of help to maintain an illusion of normalcy. It is neither productive nor healthy to withstand such feelings alone. In this drawing, I combined realistic subjects with stylized patters to convey intensity. The surreal composition and blending of elements serve to reflect an occupied mind.
Victoria Abruzzese (First Place Film)
Senior Visualization Major, from Leander, TX
Rat Burger
3D animated short film
A short film produce by undergraduates at Texas A&M Visualization Department, including: Victoria Abruzzese, Emma Moorman, Jake Johnson, John Donaldson, Jordyn Goodman, and Edward Barrera.
Bernardo Meza (Second Place *tie*)
Sophomore Engineering Major, from Del Rio, TX
Steam Train
Welded scrap metal
I regularly visit scrapyards, mechanic ships, and fabrication/welding shops to pick out scrap pieces that would otherwise go to the mills to be melted. I then shape, bend and weld the pieces to create one of a kind metal art. I enjoy making these pieces because once you take a step back and view the entire piece you see what it is interpreting. I started making these about 2 years ago and with each piece I like to include more detail and hone my craft.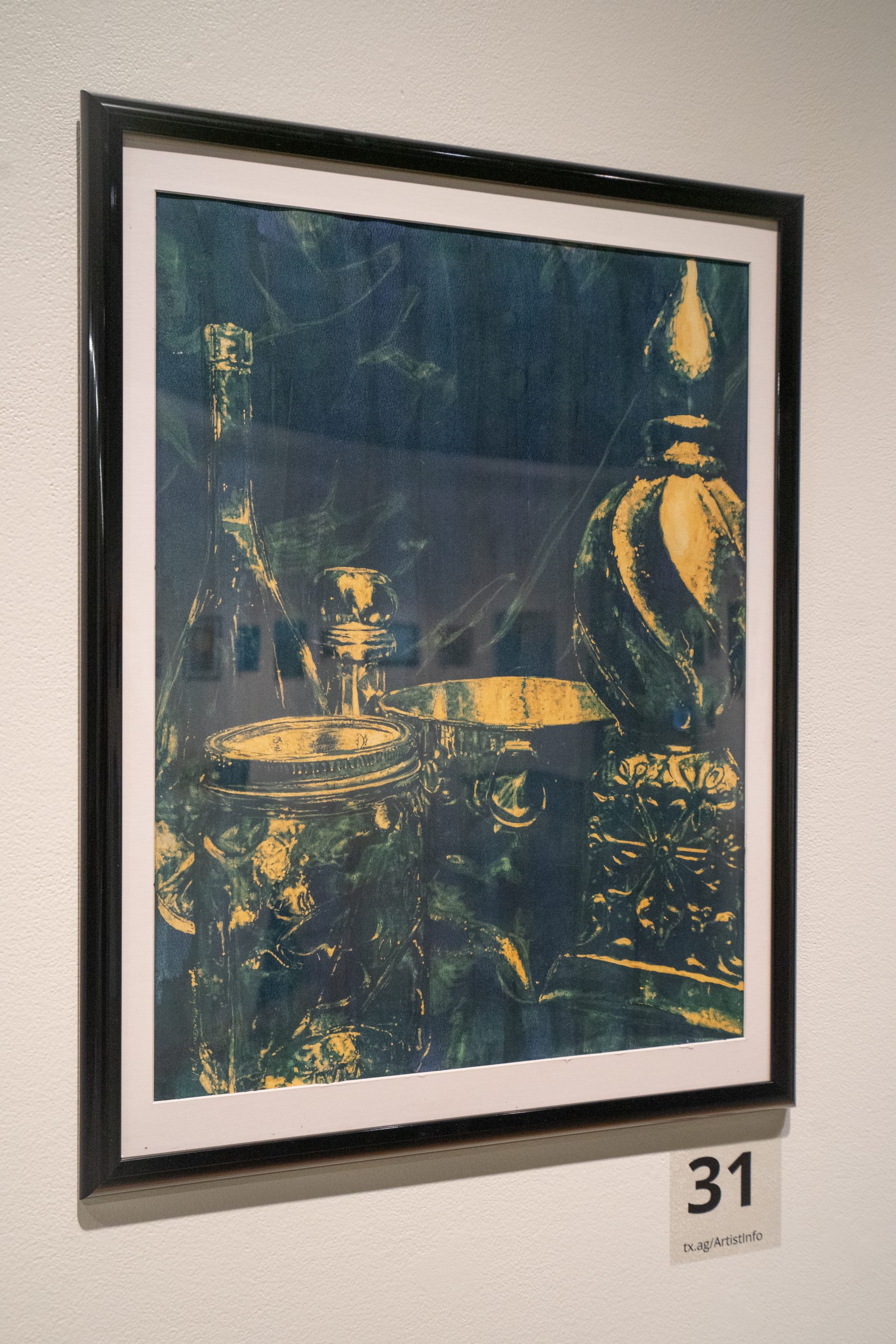 Zachary Martinez (Second Place *tie*)
Junior Environmental Design Major, from Wylie, TX
Sill Life in Bleach
Drawing
This piece represents the culmination of an effort to find new and unorthodox painting mediums. Different concentrations of bleach are applied to an ink-coated surface, which causes a chemical reaction that changes the surface's color. The subject matter was chosen with this process in mind–the highly reflective metal and glass surfaces go hand in hand with the bursts of yellow and hazy shades of green that characterize the medium.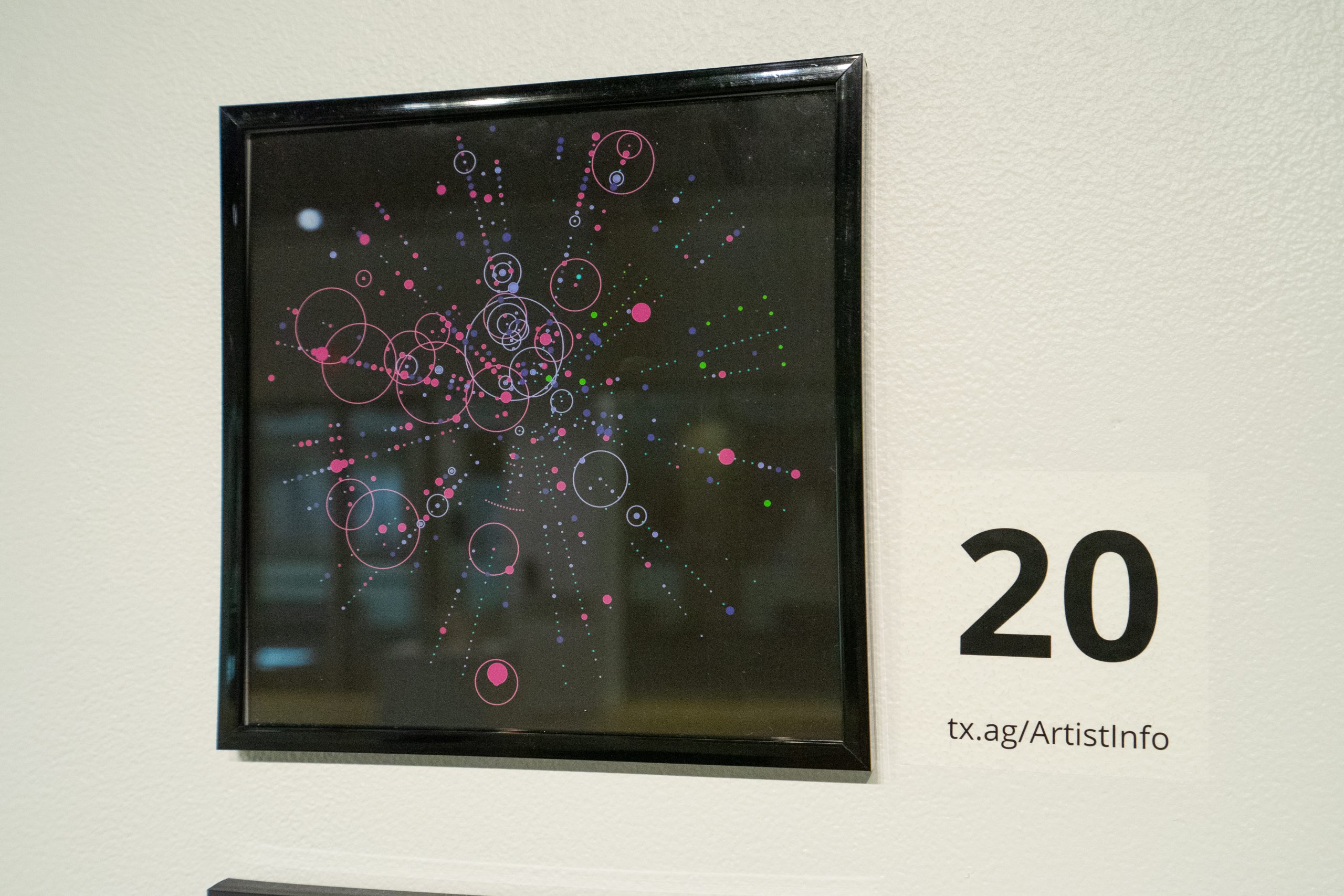 Ben Baaske (Third Place)
PhD Student Architecture Major, from Upper Sandusky, Ohio
Media Strata 2020
Digital Print
"Media Strata" is my on-going, self-indulgent, graphic journal, visualizing media watching or read over the course of a year (in this case, the year 2020). Media types include books, journal articles, short stories, news articles, film, short film, television, and lectures. Entries (spheres, seen here as dots/circles) are sized by a factor of time invested and placed on their corresponding day (concentric circles radiating outward from the center[0]) and month (radial lines from the center e.g. the 0-30 degrees [counterclockwise] wedge is January). Instead of conventional journaling, which I find a bit boring and detrimental at times, I simply wanted to use activity (through specifically media consumption) to generate a living and cumulative visual imprint of memory.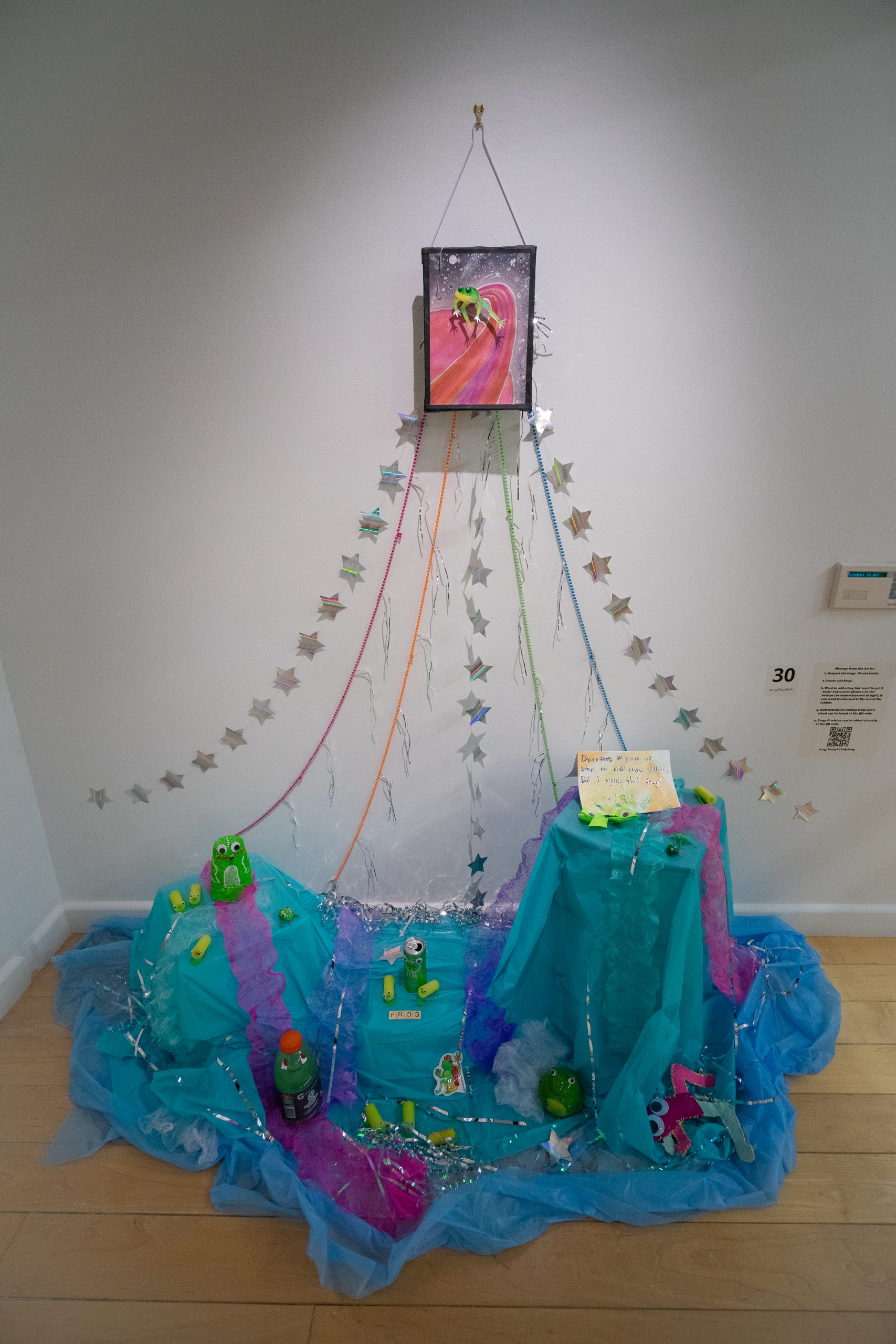 Olivia Parker (People's Choice Winner)
Junior Performance Studies Major, from
Sorry to This Frog
Mixed Medium
Frogs played no significant role in my life, until I painted the pink planet. I thought the painting looked empty, and realized that a bright green frog would contrast the background nicely. Looking at research images unlocked a memory. I was ten, running out of my grandparents' garage to grab something from the car. The sun had set, and it was cooling off in Van, TX. I stepped on something that felt like a slimy water balloon but thought. . .maybe it was mud? But mud wouldn't have pushed back against my foot like that. . . I came back, flicked on the light and discovered I had stepped on a frog. I stared at the frog, willing it to move. It didn't. I went inside, and told no one. The frog was gone in the morning. It either hopped away, or was dragged off, or my grandad removed the body. It could be in space for all I know.  You are invited to leave a frog at this monument to the mysterious, and to make a wish via the QR code or paper. Leave your number on your frog if you'd like it returned. Wishes are anonymous. They are to be kept between you, the frogs, and the stars.