About ArtFest
ArtFest is the annual student art competition and exhibition sponsored by the Memorial Student Center's Visual Arts Committee. Student submissions are displayed in the James R. Reynolds Student Art Gallery for the duration of the exhibit. The top three winners of ArtFest will receive a cash prize. Click on the How to Submit button for 2022 details!
ArtFest 2022 will be on display March 2 – April 16, 2022. 
View the virtual exhibit at tx.ag/ArtFest2022
1.Pay your Submission fees at the MSC Box Office: $5 per entry (maximum of 3 entries for $15). Submission tickets are available online an in person at the MSC Box Office.
2. Download and Read the Contest Rules, and Complete the Submission form: Read the ArtFest 2022 rules and follow the instructions carefully. Download and complete the Artist Submission form(s) at tx.ag/ArtistInfo. Print your submission form and bring it with you when you drop off your piece(s).
3. Drop off your Submission form(s) and artwork: Bring your Submission Form(s) and your pieces to the James R. Reynolds Gallery during any of the drop-off times (listed below). All submissions must be ready to hang (with hooks, picture wire, brackets, or other hardware on the back). 3-dimensional submissions must be freestanding, or you must provide some form of support. Film submissions can be sent by file transfer, or brought to us on a USB data stick.
Please allow up to 30 minutes for your drop off, drop off times are first come, first served:
Monday,  February 21 from 10:00 am – 6:00 pm
Tuesday, February 22 from 10:00 am – 6:00 pm
Wednesday, February 23 from 10:00 am – 6:00 pm
Thursday, February 24 from 10:00 am – 6:00 pm
Friday, February 25 from 10:00 am – 6:00 pm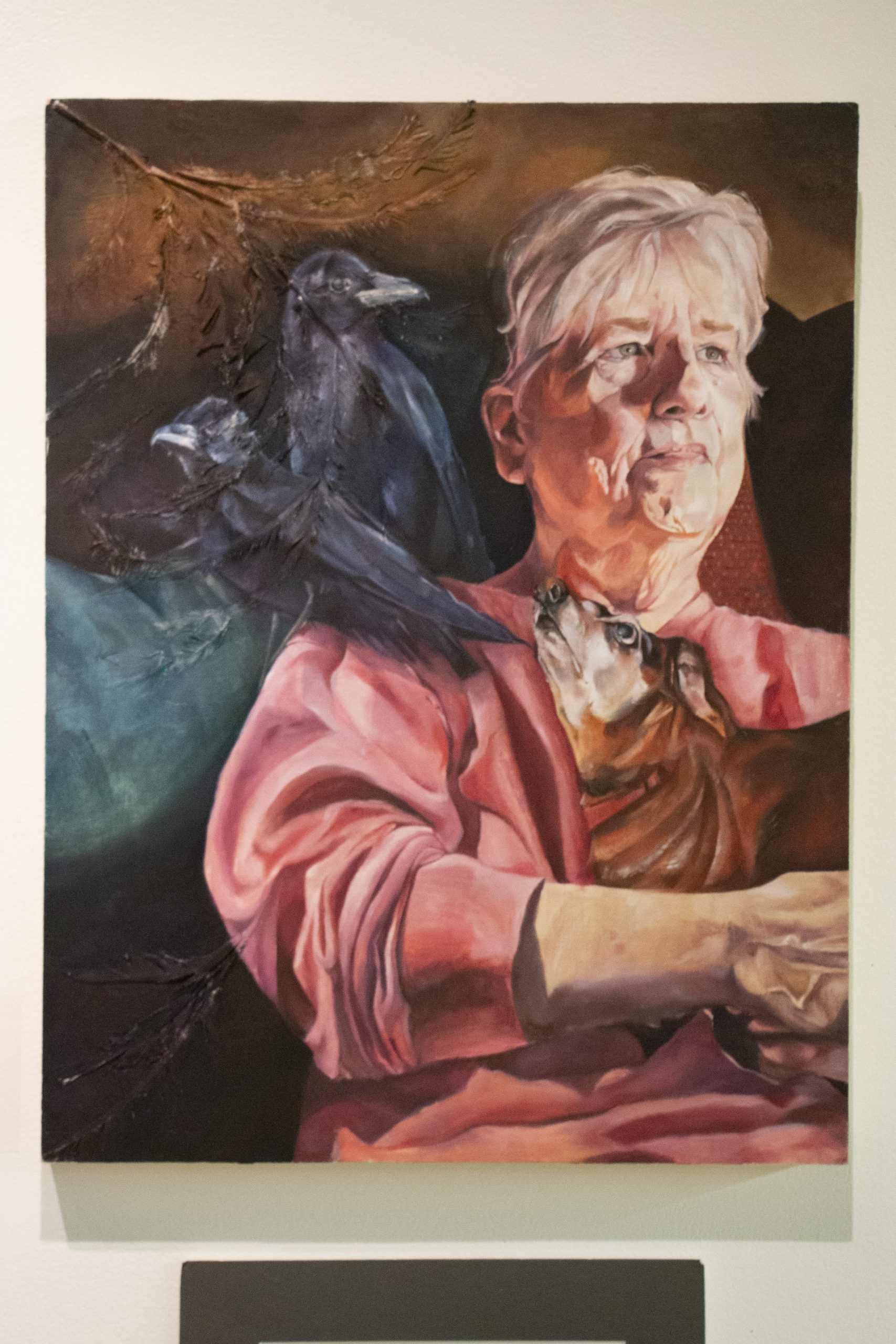 But the Murder Sang On
*First Place Winner*
Oil paint
Luke Kostouryz
Freshman, Visualization, from Keller, TX
Vaguely inspired by Francisco Collantes' The Denial of Saint Peter, the purpose of this piece is to convey the different perspectives during the stages of denying imminent death. This painting depicts my grandmother, who is experiencing early signs of dementia, ignoring the weight of death that lies on her, waiting to take her loving dog away who was experiencing cancer. This moment was his last goodbye as he curled up in her lap for the first time in years. This piece also expresses animals' ability to often foresee death that humans cannot, and includes an element of spiritual ascension represented through the feathers that is inviting to the dog.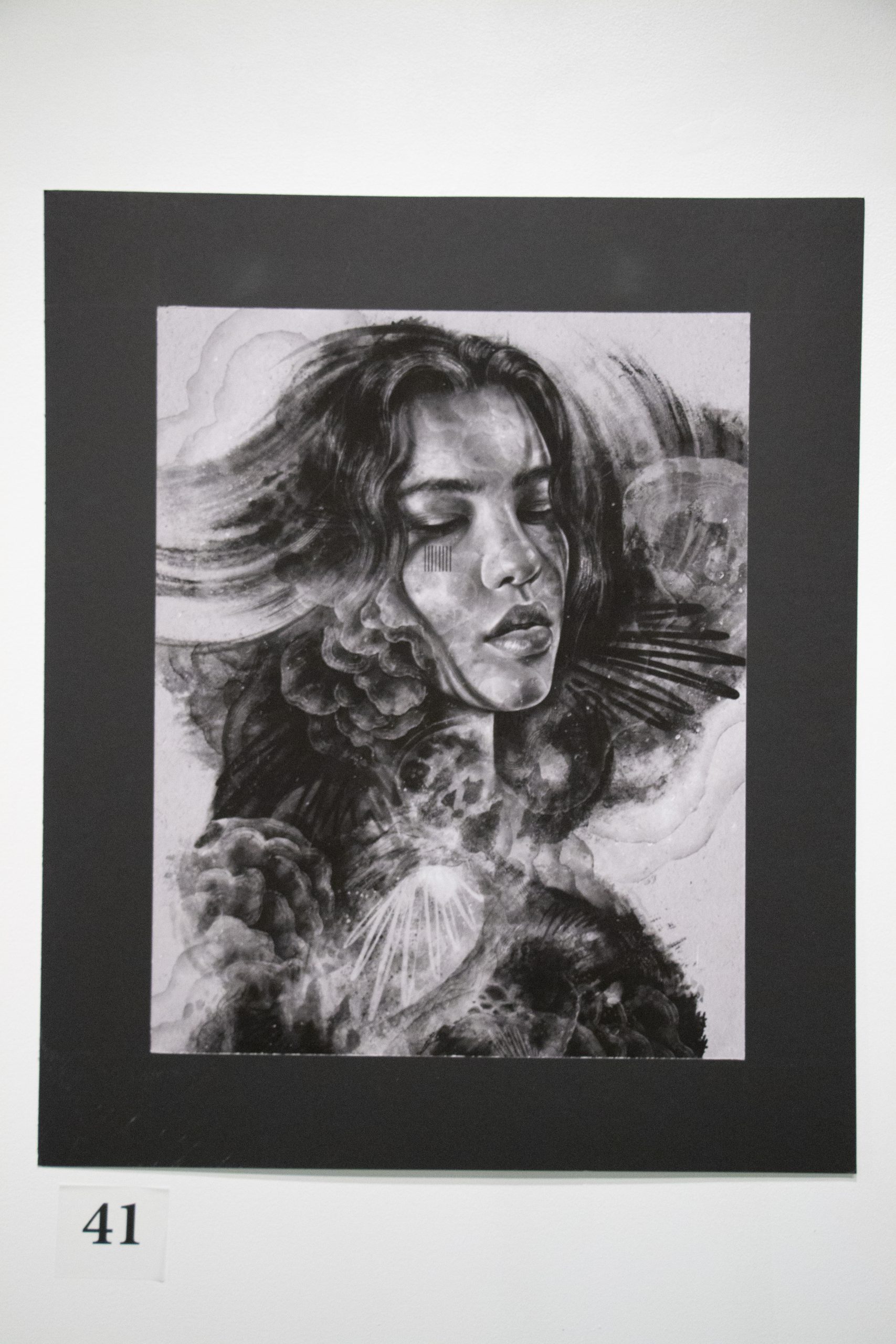 Disorientation
*Second Place Winner*
Digital painting
Crystal Scott
Sophomore, Mechanical Engineering, from The Woodlands, TX
This is a self portrait with which I hoped to explore composition and push towards realism in digital painting. I wanted to test an array of uniquely textured digital brushes while keeping the piece unified. I created this painting last year while classes were held online due to COVID-19 restrictions. As a freshman who barely knew anyone on campus, I spent almost all of my time cooped up in my dorm working on assignments. It was a loneliness like nothing I'd experienced before. The days became repetitive to the point where they seemed to blend into one another, and as each one passed it bacame increasingly difficult ot stay disciplined an dmotivated. During these months I felt unlike myself, like I was in an altered stateof reality closed off from teh actual world. The background shapes and textures in the piece are meant to reflect that ddisoriented state, phasing in and out of the figure and blurring any lines of distinction. Now that many of the restrictions have loosened, I am thankful to be interacting with y friends and professors in person, as if I escaped that strange, secluded buble and was welcomed back into the real world.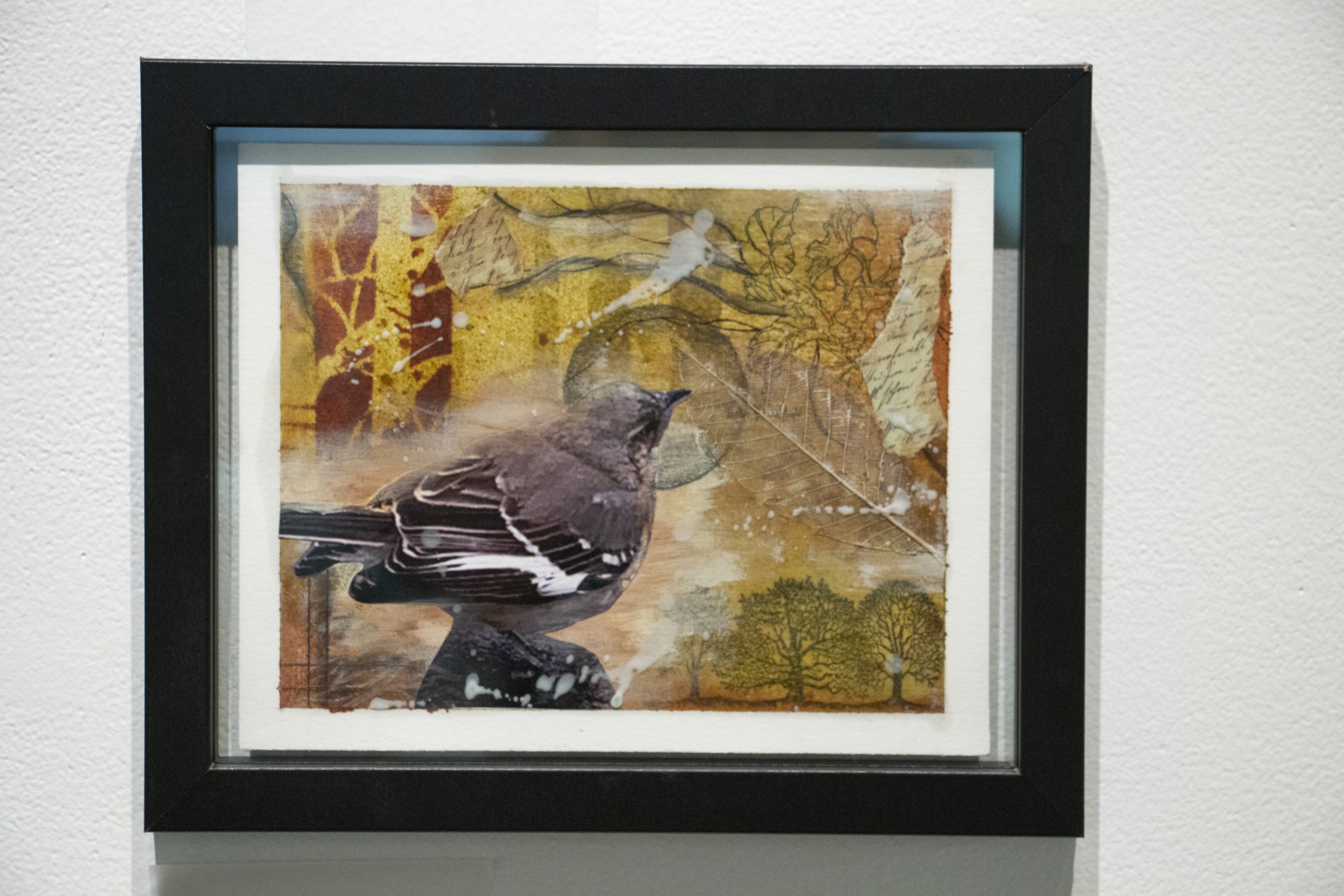 Broken Wings
*Third Place Winner*
Mixed Media
Chloe Boerner
Freshman, Engineering, from San Antonio, TX
This piece illustrates the diversity within nature. The shear natural beauty of nature inspired me to highlight the simplistic organic form. The image of the bird staring into the distance where the boundary between freedom and confinement. The edge of reality and aspiration.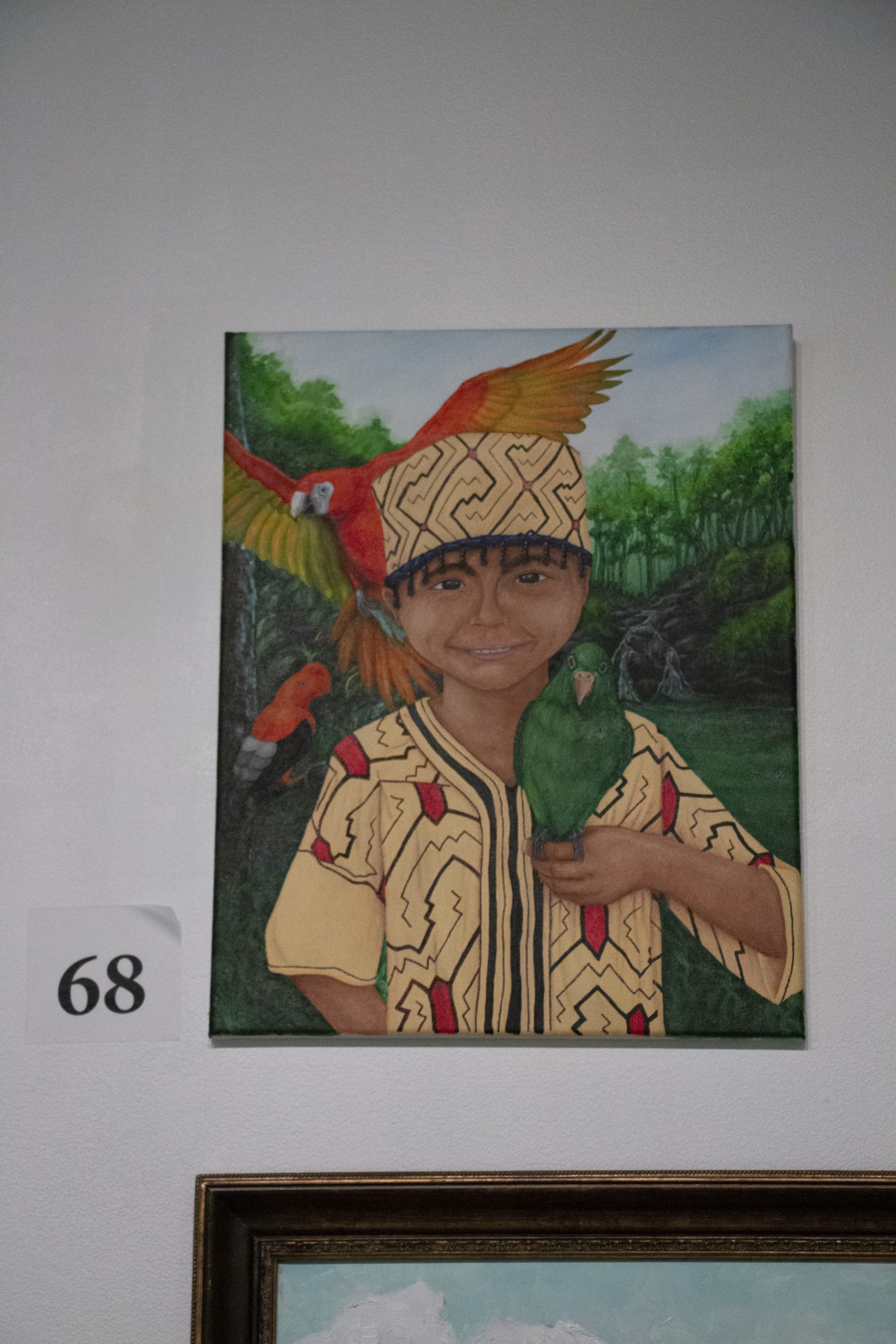 Shipibo
*Popular Vote Winner (tie)*
Acrylic on Canvas
Diego Galvez Aranda
Graduate Student, Electrical Engineering, from Peru
The Peruvian jungle, difficult to explore, almost an unknown place for me and dangerous for others, it is the home of Shipibos, an indigenous people the Ucayali river in the amazon rainforest in Peru.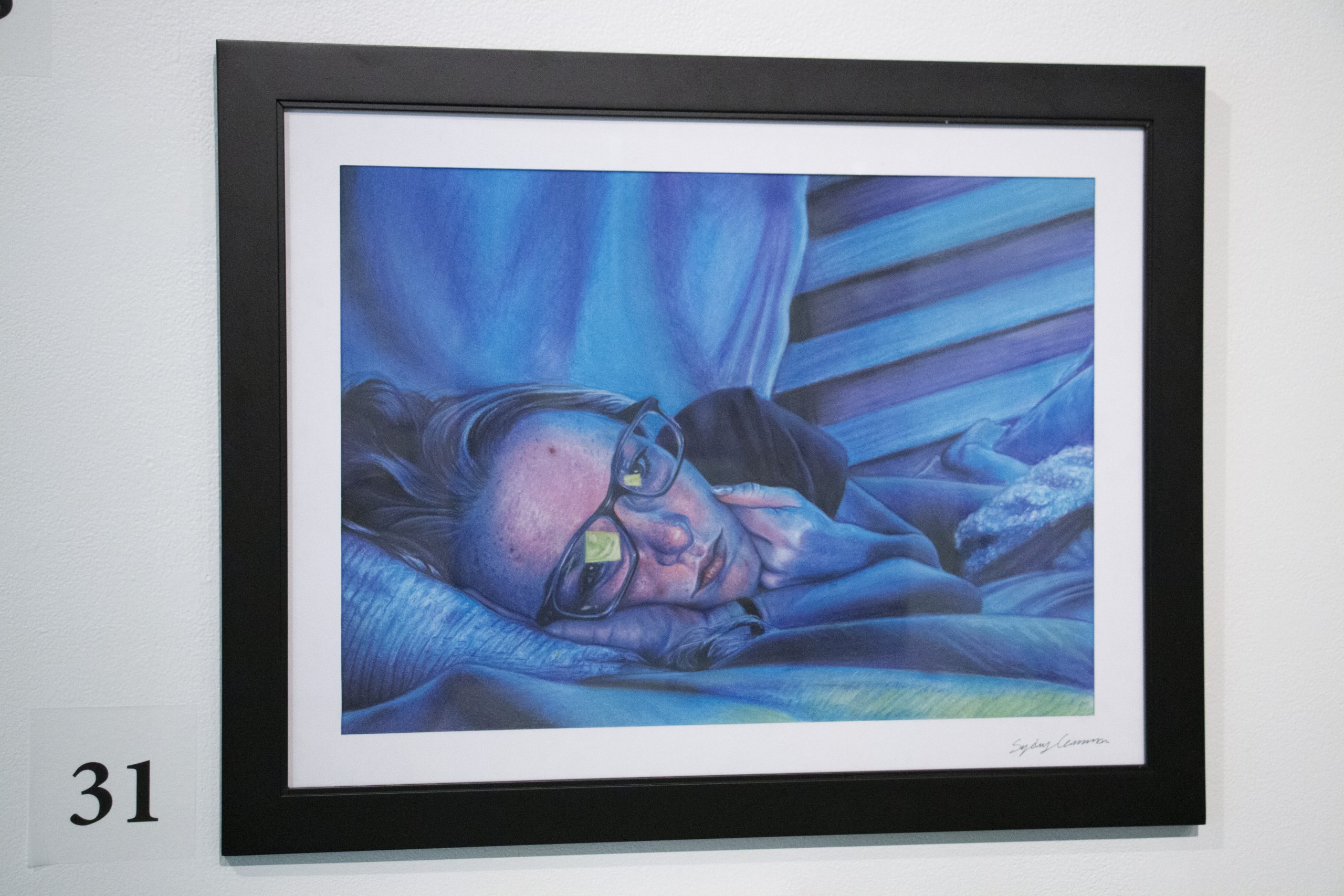 Languishing
*Popular Vote Winner (tie)*
Colored pencil
Sydney Lemmon
Freshman, Visualization, from Fort Collins, CO
The world halted that day. We locked ourselves in our homes and observed the world through a screen. Staring forward, dead-eyed at these blinding lights; slowly melting into the sheets and blankets of our beds. Every day was the same shade of blue. The only way to get just a touch of color was through a glowing rectangle at an arm's length away. We languished our futures away as we slowly became one with the furniture we laid upon. This was the reality of 2020. The never-ending year was a perfect example of how reality could be as fragile as glass. What was once normal had become an unthinkable taboo confining our worlds into a rectangle. We were left with questioning: what is normal? Languishing is one in a series of pieces that respond to how reality can be distorted. The series addresses life changing moments such as death, cancer, isolation, insecurity, and mental illness; illustrating how any sense of normalcy is an illusion. This idea is achieved through the subject of the piece while also through its style. Two opposing schools of thought are joined in my work: hyperrealism and abstraction. I intend to prove that hyperrealism is art as well as th express the relationship between realism and abstaction. Hyperrealism is used to express the sobriety of the situation while abstraction shows the weakness in our sens of stability. Theis relationship is exemplified in Languisihg thorugh the fact being executed in extreme detail while the feet ar abstracted to look like fabric.